Ultimate Lift & Support | Tape Technique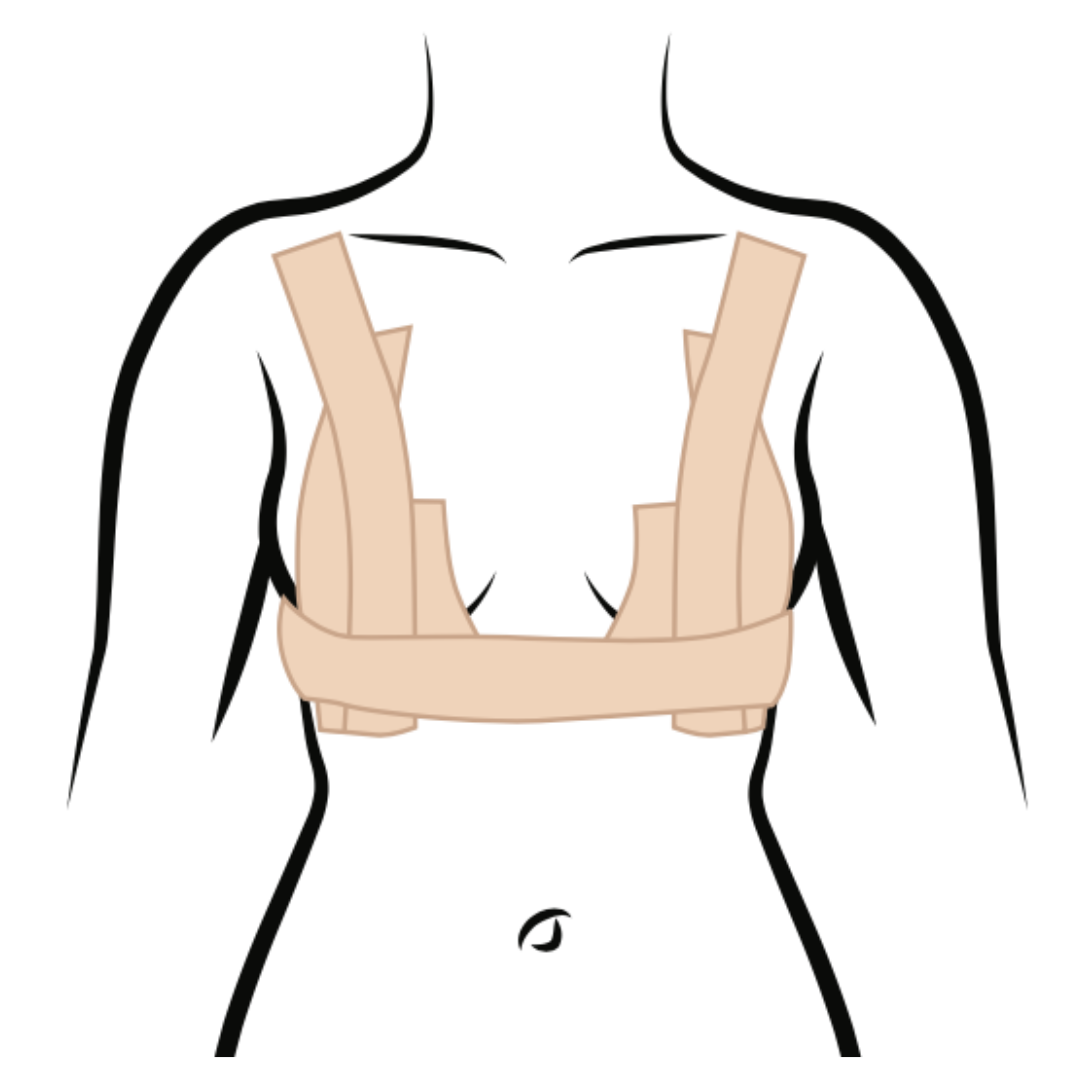 The ultimate lift and support boob tape technique provides the ultimate lift to your breasts by applying the tape up to the shoulders. This technique is good for low-cut tops or dresses (with an open back) where you want to draw attention to the cleavage. Also, this tape is ideal for extra support during sports and women with larger breasts because it provides extra support.
✓ Open back
✓ During sports
✓ Women with large breast
Step-by-step plan - ultimate lift & support tape technique
Preferably, cover your nipples with nipple covers to protect your nipples.
Measure out how much tape you need. You can do this by placing the tape - while still attached to the adhesive paper - in the desired manner across the breasts.
Cut the tape to the desired length. Keep in mind that the tape is stretchy, so cut the tape a little shorter.
Tear through the paper attached to the back of the tape. Do this at the end of the side you want to start applying with.
Stick the first strip of tape at the bottom of your chest and work up across the middle of your chest. Stick the tape approximately up to your shoulders. The higher you let the tape continue, the more support you create.
While applying the tape, remove the paper.
Stick another strip of tape on the side of your chest and also work it upward (to your shoulders).
Add as many strips of tape as desired to create the right shape and support.
Repeat steps 5 through 8 on your other breast.
For extra support to create deeper cleavage, place a strip of tape from the outside of your one breast to the outside of your other breast.
Again, add as many strips of tape as desired to create the right shape and support.
Press the tape firmly so that the tape adheres well.
Should the tape be visible under your outfit, you can loosen the tape a bit and trim it.
Did you already know that it is very nice to wear boob tape while exercising? This way you get extra support and your breasts stay in place.
Check out all the ways you can apply boob tape while exercising here.